The other day a former colleague sought my counsel on a social media issue: Using IFTTT.com to make Instagram photos show up on Twitter as an image rather than a link to Instagram.
Honestly I hadn't thought about IFTTT (If This Then That) for a long time, and I was grateful for the reminder. For the uninitiated, IFTTT is a clever site that connects "Channels" (e.g. Facebook, Twitter, Email, Evernote, Instagram and many more) to create digital "recipes" that are made up of triggers ("this") and actions ("that"). An example of this in action:
Trigger: I update my Facebook profile photo
Action: My Twitter profile photo changes to match
(If this recipe sounds useful to you, you're in luck. It's real! And there are hundreds of others to choose from!)
Back to the question at hand: How to get Instagram photos to display on Twitter as full pic.twitter.com images, rather than as a link back to Instagram. First-world problem? Sure, but first-world problems keep people like me employed.
First, you'll need to sign up for IFTTT. Do that. Next, click on Channels at the top of the page, then scroll down and select the Twitter icon. Activate your Twitter account, then scroll down a tad. This is what you'll see: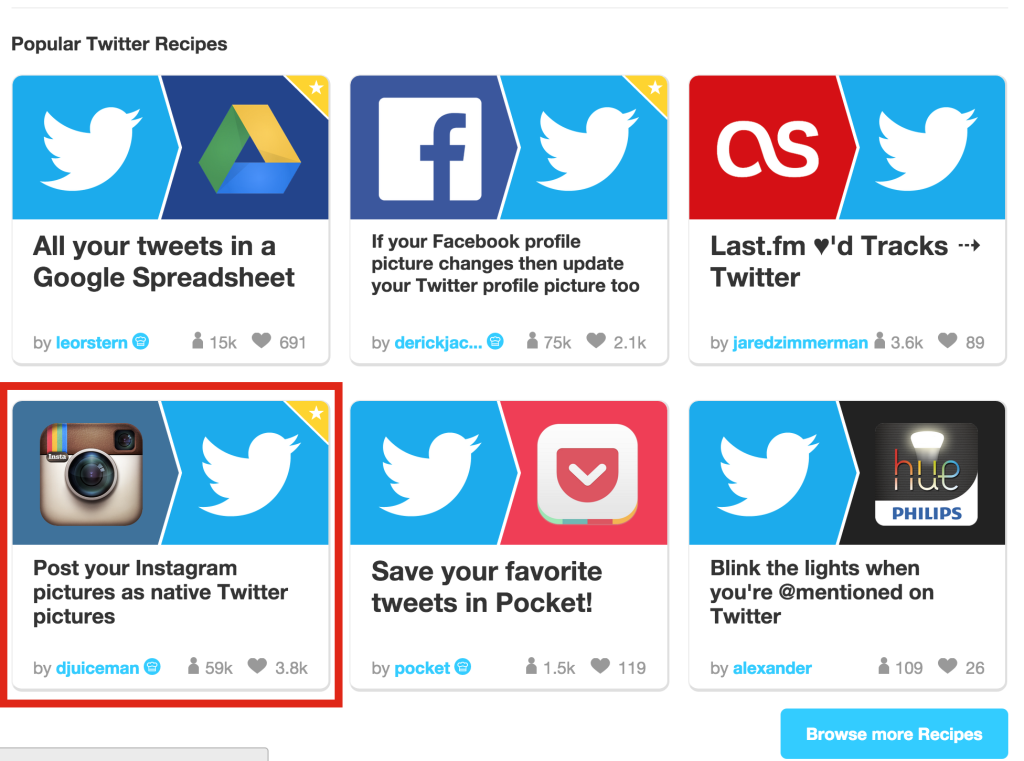 See the bottom left recipe? That's the one you want.
You'll receive a prompt to activate your Instagram account. Do that, and you're pretty much done.
Note: When I first tested this recipe, my trial Instagram post didn't appear immediately on Twitter, and I suspect this is what was tripping up my former colleague. Initially I thought maybe I had to click Share to Twitter on Instagram to make it work, but that wasn't the case. If you've set up the above recipe, posting normally on Instagram will trigger the desired action, but(!) many IFTTT triggers have about a 15-minute lag. It appears you can override that lag by clicking on the Check Recipe icon within the recipe.
P.S. — Mandatory word of caution: Any time you combine a third party with your social accounts you increase the risk of hacking. Be aware and stay safe!